We have talked about extreme conditions in this blog many times. It is what our displays are made for. In December, we told about our Lumineq displays being installed in the Airbus A350 and mentioned that one of the business areas with the toughest requirements for displays is aviation. Turns out it was just a start…
Helicopter displays in extreme conditions
Now we have a story to tell about a Lumineq display customer who really knows what it means to design products with displays that will be used in rough conditions. This time we will let the customer talk.
Says Reg Moen, President of DynaNav Systems Inc:
"We are using Lumineq displays for a few good reasons, the first being the ability to read the screen at a high viewing angle without any loss of clarity. The second is the sunlight readability in the helicopter and aircraft environment. Thirdly, we can also directly dim the display to any level, which allows the pilots to operate the system for all lighting conditions including night flights."
Simplified, intuitive, dependable
DynaNav designs and manufactures industrial GPS (Global Positioning System) guidance and data gathering systems. DynaNav's proprietary hardware and software products integrate the best industry solutions available. Their systems are designed to meet heavy industry standards while providing high dynamic and high definition navigation, data gathering and mapping capabilities for all forms of vehicles and applications on land or sea or in the air.
DynaNav uses Beneq's electroluminescent displays in several products, for example in their integrated flight guidance instrument that can easily be installed to any helicopter.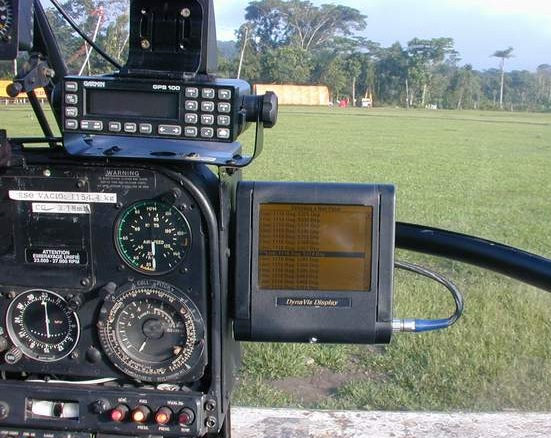 But let's let Reg continue:
"Another feature we got when we selected the electroluminescent displays from Beneq was conformal coating, which means that we were able to use the display in high condensing humidity environments without effecting the operation of the display."
In the rainforest, in the arctic – always instantly operational
"Reliability is particularly important under the extreme conditions that our products are subjected to in helicopters and aircraft. With the operational temperature range, the systems were able to immediately turn on and operate in the helicopters at minus 30 degrees in the Arctic, the plus 40 degrees in the deserts in Africa and the sweltering conditions in the Amazon jungle."
Whooah! Humidity, helicopters, jungle, night vision. Talk about extreme conditions!
In the picture above, you can indeed see a Lumineq display in a helicopter in the Amazon rain forest as a part of a DynaNav system. In the picture below, you can see the DynaNav AirAg integrated flight guidance instrument with an electroluminescent display from Beneq.

On the DynaNav website you can also see a great video of DynaViz Heads-up Display, where our Lumineq displays are again flying high.
Reliable like no other
Sometimes the real thing from the field is more amazing than any marketing story copywriters can come up with. The key message brought to you today by helicopter directly from the jungle is this:
"We have been using electroluminescent displays for 15 years and the reliability is very good."
Thank you Reg and DynaNav. Let's keep on taking displays where no display has gone before.