Last week we launched the new FOX Touch demo, that demonstrates the latest development in our Touch technology. Continuing with customizable display options, LUMINEQ is proud to release a new Water-resistant touch demo with the intention of changing any glass surface into an interactive, false activation protected water-resistant interface.
Our latest innovation has brought in a revolution in the display market, and this has raised great interest with companies already coming forward making their queries regarding the new LUMINEQ water-resistant touch display technology. The technology enables endless possibilities within the automotive and transportation industry.
Applications include:
Digital keypads for indoor and outdoor usage
Operating vehicle trunk
Opening transportation vehicle doors for passengers
The new LUMINEQ touch technology has been engineered to work even in the heaviest rain and in extreme temperatures. The touch function can be tuned to work on both sides of the glass surface, or just one, based on the application requirements.


LUMINEQ has tested the new water-resistant touch technology worldwide together with world-known brands. Ongoing projects include opening train and bus passenger doors, a keypad standing in the rain for locked containers, and many more for transportation applications.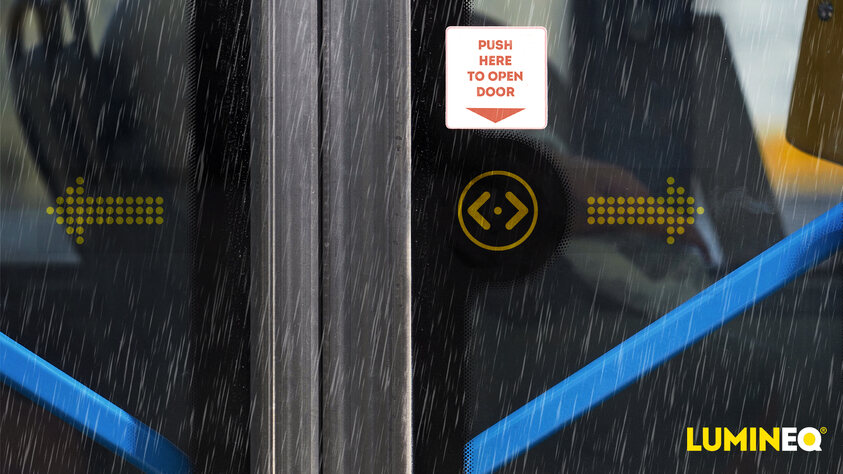 Concept image of LUMINEQ display opening buss passenger door
Main benefits of the new water resistant touch demo include:
Robustness of the transparent display
Glass-like transparency, even when laminated in glass
The WOW factor

Display and touch technology, all-in-one

No additional touch layers required

Endures the lamination process
Fully customizable
An illustration of LUMINEQ water-resistant touch technology.
The new technology enables manufacturers to transform any glass surface into an interactive transparent touch display. LUMINEQ displays are all fully customizable
to meet unique end-product specifications. This enables endless possibilities for applications requiring digital information to be displayed on a glass surface. Our team of display experts would be happy to answer your possible questions regarding the customization of LUMINEQ displays, so please do not hesitate to contact us.
"I am excited about the leap we have taken in the touch technology development. This new feature will broaden the offering to our customers. Our customers can now more freely design touch-enabled displays without limitations or challenges that changing circumstances may have been previously presenting." States Ari Tervonen, Business line Manager of In-glass Displays at LUMINEQ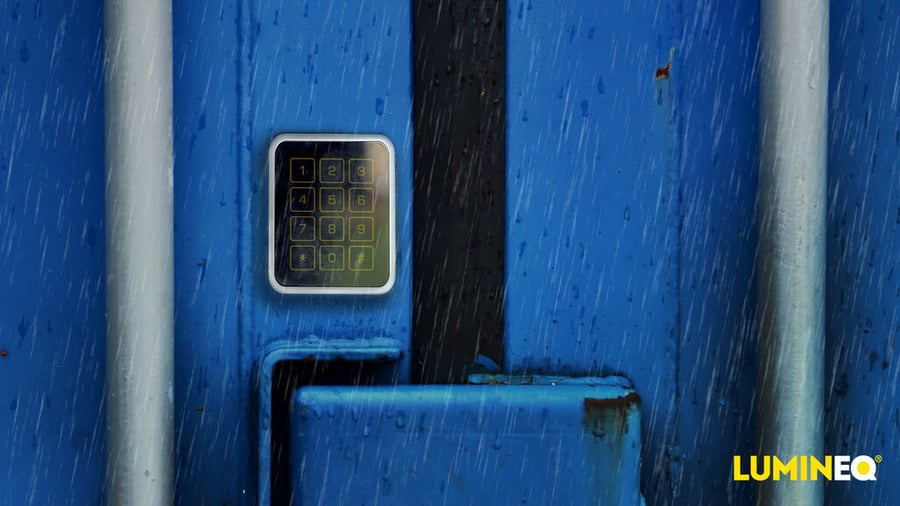 Concept image of keypad opening locked containers
LUMINEQ has been innovating and developing new display technologies for the past 30 years. We intend to stay on this path for the upcoming years and constantly bring new display innovation to the market. Lumineq will be the premier manufacturer of the most transparent displays in the world, for the line of sight of vehicles and optical devices. Customizable display options are essential in order to meet with the market demand and keeping up with the global display trends.