Vehicles today have twice as much glass as they did 30 years ago and it's continuing to grow. Interior, exterior, transparent, nontransparent, curved, flexible, stronger, and, above all, smart glass applications push the boundaries in automotive as we know it.
LUMINEQ sees the potential to make smart glass even smarter. The display company is enhancing and refining its transparent display and touch technologies, opening up new possibilities within automotive glass.
NEW LUMINEQ TOUCH DEMO 1-5 P FOX
A transparent LUMINEQ touch display laminated inside a car side window with icons for important car vehicle diagnostics.

LUMINEQ is excited to release a new demo showcasing its latest developments in touch technology. The TOUCH DEMO 1-5 P FOX capacitive touch meets strict automotive regulations worldwide. It is functional through a laminated glass stack. There are no false actuations caused by water droplets or water spray and is glove touch compatible, making it suitable for exterior automotive use. It retains a transparency of over 70% in lamination. The touch can be tuned to work on both sides of the glass surface, or just one, based on the application requirements.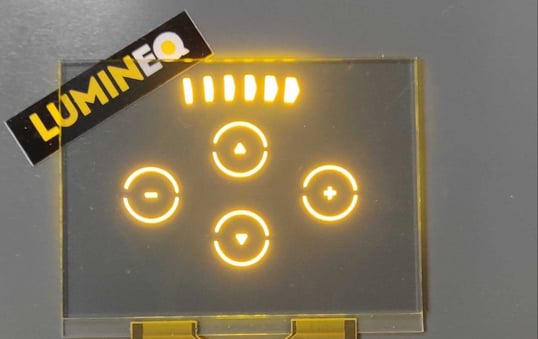 An image of new LUMINEQ demo without the electronics

A major advantage of LUMINEQ's self-emissive display and capacitive touch technology is that it is all-in-one: they are both created on the same ITO layer. This eliminates any headache common to incorporating multiple technologies from different manufactures.

LUMINEQ touch display technology is suitable for interior and exterior applications within the automotive and transportation industry. From dimming and movement controls on the window or sunroof surface to locking/unlocking of vehicles and interior vehicle controls, LUMINEQ touch technology can handle it all. The high-bright display and touch layout are fully customizable to meet unique end-product specifications.
The new TOUCH DEMO 1-5 P FOX is a bundle of TASEL® display panel (Lumineq Touch TASEL display), flexible printed circuit (FPC) cables and driving electronics. With the product, Lumineq customers can experiment with integrated touch technology. The demonstrator comes with 14 predefined segments of which 4 relate to touch functionality; "+", "- ", solid "Up" and "Down" triangles. If you would like to discuss more about the possibilities of customization or have any other questions, please do not hesitate to contact us.

LUMINEQ's robust displays are enabled by the same thin film electroluminescent (TFEL) that has been serving military and other markets requiring ultra-reliability since 1984. LUMINEQ displays are the most durable and reliable displays on the market. They resist shock, vibration, extreme weathers better than any other display type.