Visit LUMINEQ booth #1-148 in Hall 1
Where: Nuremberg Exhibition Centre - Hall 1, booth #1-148
When: 25 – 27 Feb, 2020
LUMINEQ is happy to announce our participation as an exhibitor at the Embedded World Congress this year in Nuremberg. Our team will attend for the 12th consecutive year to discuss with you about the latest trends in displays.
We would like to invite you to visit our booth where we will be demonstrating our newest innovations in Rugged and Transparent displays. We will be showcasing some interesting designs and prototypes, including our new Optics Technology Demonstrator, ICEBrite™ demo and a dimmable vehicle window display. Visit our booth to see the latest innovations in displays in action!
The Embedded world Exhibition and Conference is the world's leading meeting place for the embedded community. The Conference covers all aspects of the development and application of embedded systems, from fundamental technologies to development processes and special fields of application.
Technology demonstrator for scope manufacturers
LUMINEQ first introduced the technology demonstrator at the Shot Show supplier showcase 2020 and the response was amazing. The ELT32S-RETICLE-BAT enables manufacturers to prototype LUMINEQ displays in existing optical systems for proof of concept and real-world testing of the technology.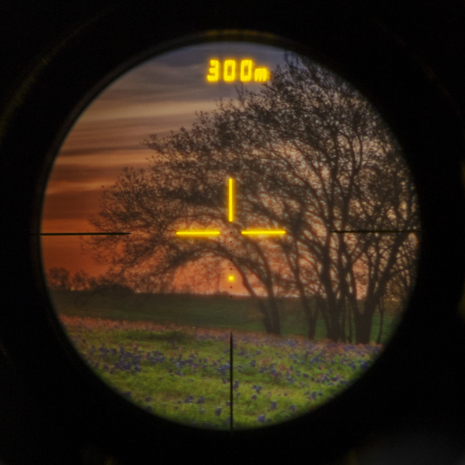 Unlike conventional reticles that use the principle of reflection or diffraction to create a lit aiming point the dynamic LUMINEQ display reticle provides the heading, illuminated holdover dot windage, precise targeting, ballistic information, or distance to the target directly on a flat glass that is placed on the line-of-sight.
Like most LUMINEQ Displays, the Transparent Display Technology demonstrator is fully customizable. The size, shape and content of the glass can all be adjusted to fit demanding end-product specifications. Matrix displays offer manufacturers the freedom of designing their own graphics, a combination of both a segmented display and matrix display is also available with LUMINEQ technology. With additional chrome layers one can customize their crosshair, light blockage and brightness according to the end-product requirements.
ICEBrite™

demo for marine applications
The marine industry is replacing single purpose analog gauges and instrumentation with multi-function displays (MFDs). But MFDs can be cluttered making critical operating information difficult to read and high ambient light reduces visibility.
At this year's conference we will introduce our ICEBrite™(Integral Contrast Enhancement) display solution that improves the visibility of critical information and simplifies integration. The display with over-sized ICEBrite cover glass provides support for panel mount and enhancement coatings.
LUMINEQ ICEBrite™ offers unparalleled image quality in a wide range of challenging visual conditions. The technology delivers up to 1000:1 contrast ratio for daylight readability.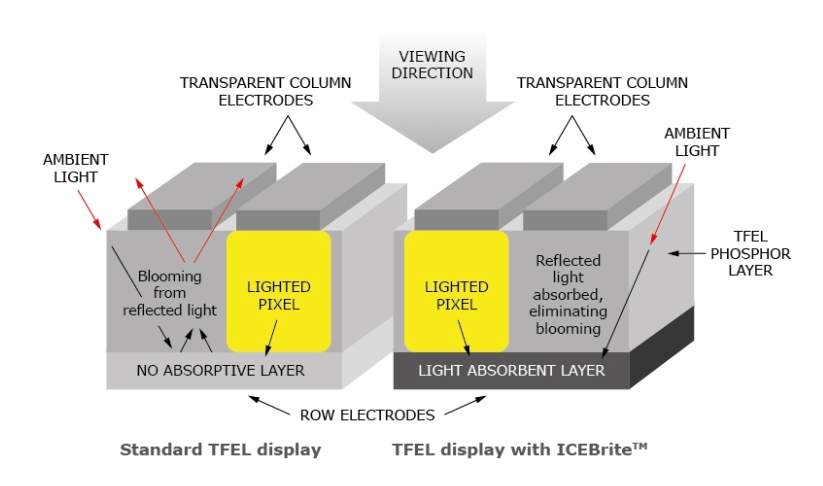 Technology image how ICEBrite™ offers unparalleled image quality
In-Glass Displays
With Transparent Displays companies can break design boundaries of conventional vehicles by turning any glass surface, such as windshields, side windors or doors, into interactive see-through displays. With crystal clear transparency and 360-degree viewing angle, transparent displays bridge the gap between the digital and the physical worlds.
LUMINEQ in-glass displays come with touch functionality, which is directly integrated in the function display layer. By laminating transparent displays in glass, vehicle OEMs are empowered to utilize all the windshields and windows, showing important information and providing functions controlled by touching the glass.
Our experts will be showcasing a dimmable window at the exhibition. This highly sophisticated window features a LUMINEQ ELT160.60.100-07NC display with our touch functionality.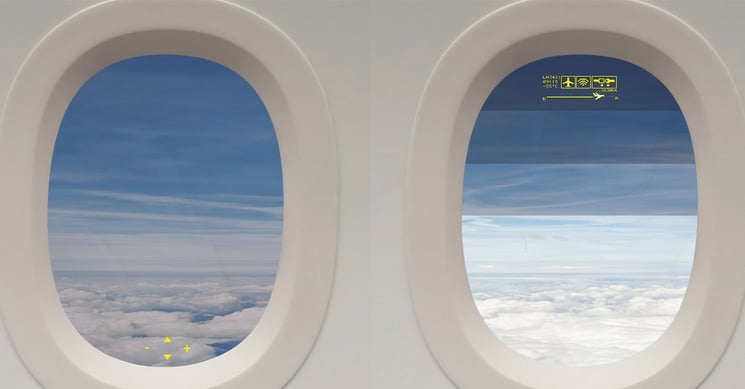 Vision Systems dimmable window customer case

Other LUMINEQ demos presented at Embedded World 2020:
If you require more information about our demos and products, do not hesitate to contact us.