Congratulations to Ricky Barbec and Team HRC for winning the Dakar 2020 Bike Rally. The overall success of Monster Energy Honda Team powered by HRC's machine CRF450 Rally in the world's toughest rally was excellent throughout the entire 2020 Dakar Rally.
LUMINEQ Displays is a proud partner of Honda Racing Corporation (HRC), the largest motorcycle manufacturer in the world.
Today's announcement builds on the existing relationship between HONDA and LUMINEQ. The engineering teams have worked closely together during the past years. Together, they have innovated a Display customized to endure extreme racing conditions while keeping the highest standards, set to provide full use of advanced technology.
LUMINEQ displays are designed for harsh environments like the Dakar Rally, where the display was first introduced to the public on the race prototype Honda CRF450 Rally motorcycle. The rally is the toughest in the world for any type of vehicle and was a perfect event to prove the competitiveness of Honda motorbikes and LUMINEQ displays.

Lumineq Display attached to Honda CRF450 Rally Machine.
Some benefits of LUMINEQ displays in demanding conditions:
Endures shock and vibration up to 100 g force shock when laminated in glass
Operating temperature range from -60 °C to 105 °C
Long lifetime, up to 20 years
Lifetime brightness, up to 85% of original brightness remains after 100 000 hours of usage
Fully customizable to fit demanding end-product specifications
''The LUMINEQ display was very important for Honda's overall performance'' states Ruben Faria, General Manager - HRC Rally
The HONDA riders at the Dakar rally were provided a customized TASEL glass that was fully customized for HONDA's needs and the end result informed the driver on the engine's technical information.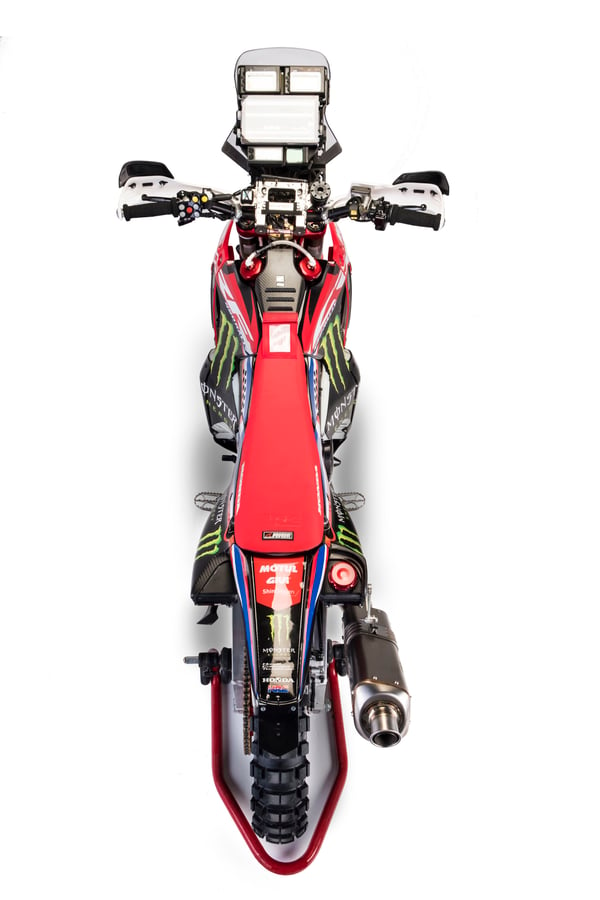 Honda CRF450 Rally Machine
This information helped the rider to keep he's high-performance mode and have extreme endurance at all time during the 7 500 kilometers desert race.
''We are very excited to work with Honda's professional engineering and HRC teams. lumineq Tasel fullfills the requirements of this extreme racing environment and it was great to be a part of the winning team" says Mikko saikkonen, Area Sales Director – lumineq displays
About Honda Racing Corporation (HRC):
Honda Racing Corporation (HRC) is a division of the Honda Motor Company formed in 1982. The company combines participation in motorcycle races throughout the world with the development of high potential racing machines. Its racing activities are an important source for the creation of leading edge technologies used in the development of Honda motorcycles. HRC also contributes to the advancement of motorcycle sports through a range of activities that include sales of production racing motorcycles, support for satellite teams, and rider education programs.
About LUMINEQ:
LUMINEQ thin film electroluminescent (TFEL) displays are designed and manufactured by Beneq, an international technology company headquartered in Espoo, Finland. The displays are enabled by Beneq's atomic layer deposition (ALD) technology.

Lumineq® displays are the most transparent displays in the world. It makes them ideal for high-end applications, where aesthetics and a first-class viewing experience create differentiation.