The business for embedded displays has been defined by the limited set of display shapes and sizes. A typical design process for display products starts with a standard rectangular display and builds the product around the screen with given measurements.
Not anymore.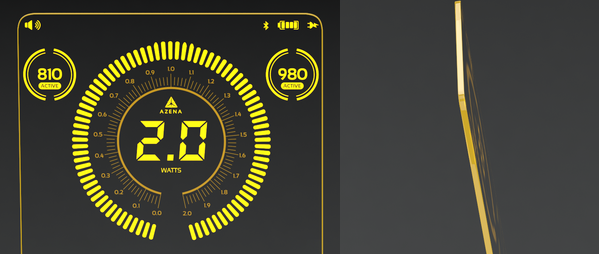 Custom Lumineq® displays for demanding end-product specifications
Beneq, the world's premier manufacturer of thin film electroluminescent displays, introduces in Embedded World 2016 a custom display service that allows customers to design their own displays and still get all the benefits of Beneq's proven and robust Lumineq display technology.
In the custom Lumineq design process, the customers can define the size and shape of the displays, as well as the graphics and information to be displayed. The displays are available as complete display modules and glass only, which enables totally new integration concepts including in-glass and on-glass lamination. The displays can also be drilled and cut to shape.
New demos on display in Embedded World 2016
Transparent Lumineq displays make a great product differentiator and convey a message of premium quality. Optical devices, such as scopes, range finders and head-up displays are typical applications for the product line. Latest examples of customized Lumineq displays will be shown in Embedded World 2016 in Nuremberg, Germany, between February 23rd and 25th.
In the event, Beneq will also be presenting a vehicle glass display demonstrator, which has been created together with Pilkington Automotive. In-glass laminated Lumineq displays can be used to display information on windshields and windows of vehicles and heavy-duty machinery. When information is not needed, the display simply disappears.
For more information about Lumineq displays, please contact Mr Thomas Koch, Area Sales Director (+49 171 146 5173, thomas.koch@beneq.com), or come and visit us in Embedded World 2016 (Hall 1, stand 1-148).
About Beneq
Beneq is a leading supplier of atomic layer deposition (ALD) equipment and thin film coating services, and world's premier manufacturer of thin film electroluminescent displays. Beneq's rugged, transparent and customized Lumineq® displays are ideal for extreme conditions. They tolerate cold, pressure, shock and vibrations better than any other display type. Transparent Lumineq TASEL® displays combine aesthetics with superior reliability and a unique crystal clear viewing experience.
More information about custom Lumineq displays: https://www.lumineq.com/request-custom-displays
Product examples using Lumineq displays: https://www.lumineq.com/applications/markets