Earlier this year, we introduced our new custom display service that allows the Beneq customers to define their own displays and still get all the benefits of our proven and robust thin film electroluminescent display technology.
Total freedom of display shape with Lumineq
After the launch of the service, we have definitely been surprised to see how many people don't seem to believe that you can really design your own display of any shape and have it manufactured by Beneq.
A typical assumption is that when designing a product with a display, you first need to select the display size and shape (which is always a rectangle) and then build your product around its measurements. Custom displays have historically been hugely expensive and needed to be ordered in millions.
But it does not have to be so.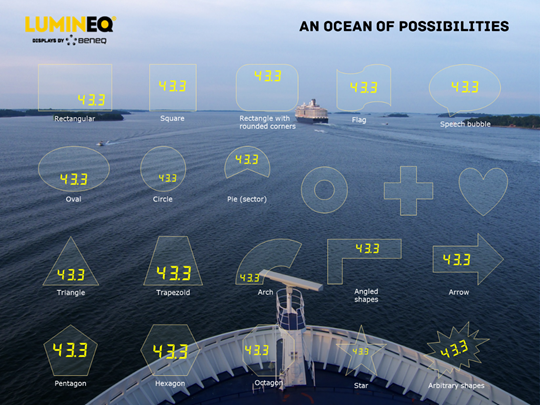 If you can draw it, we can do it
When we promised that you can have your Lumineq displays in any shape, we started receiving questions about the limitations there are on defining the shape of your customized Lumineq display.
The answer is simple: None, really.
To portrait the ocean of possibilities, we have drafted some examples of possible display shapes in the picture above. But don't let the examples limit your imagination. We can laser cut the display glass with precision; we can drill holes in the glass. And we can customize the graphics and information on the screen according to your specifications.
In addition to the free from of the display and customized content on the screen, there is also almost complete freedom of placing the driving electronics around the glass. All you need is a small area anywhere on the side of the display for attaching the flex and your design is good to go.

The Lumineq custom display configurator gets you going
So, in case you feel that just the right kind of rugged or transparent display for your application does not exist on the market, all you need to do is to let us know your special requirements.
You can also find more information about the Custom Lumineq design process on our Custom Displays web pages.