Imagine being a surgeon performing eye surgery and having to constantly check data from a separate device during the operation. This not only hinders the surgery but also causes ergonomic strain on the surgeon. But what if a solution could bring critical information to the surgeon's line of sight?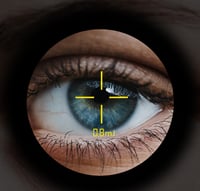 Lumineq Oy has developed a transparent electroluminescent (EL) display that can be placed in the optical path of ophthalmic lasers, displaying information in the surgeon's line of sight. This emissive display technology eliminates the need for complex projective or reflective systems, making it a perfect fit for enhancing optical devices like microscopes, riflescopes, rangefinders, night vision devices, and any direct-view optics.

The LUMINEQ EL display offers superior optical quality with over 90% transmission and excellent optical clarity, eliminating haze. It can also support graphic content with details down to 4µm, making it suitable for solutions with high magnification or riflescopes using first focal plane reticles. Additionally, the inorganic and solid-state structure of the EL display makes it immune to environmental factors like humidity, temperature, shock, and vibration, providing durability second to none.

The EL display is fully customizable, consumes low power, and offers a wide adjustable brightness range that can adapt to all lighting conditions.

This technology opens new opportunities for optical device manufacturers who want to differentiate and upgrade their products with smart features. By bringing dynamic information to the line of sight, optical device manufacturers can significantly improve users' situational awareness and user experience.
The possibilities are endless with this innovative technology. From improving surgical accuracy and enhancing user experience to upgrading the features of optical devices, the EL display is revolutionizing the way we see things.
How does it work?

Currently no other rugged transparent display technology is placed straight to the optical path of direct view optics designed for demanding applications. Competing technologies like OLED and LCDs are typically placed outside the optical path, requiring complex and delicate optics to project the image to the line of sight and additional space within the optical device.
Depending on the application, these technologies and the beam splitters and prisms used introduce light scattering and glare within the optical path that weakens the image, hence the critical information displayed. The materials used in OLEDs and LCDs are affected by the environment. They're sensitive to moisture, sunlight, heat, and cold.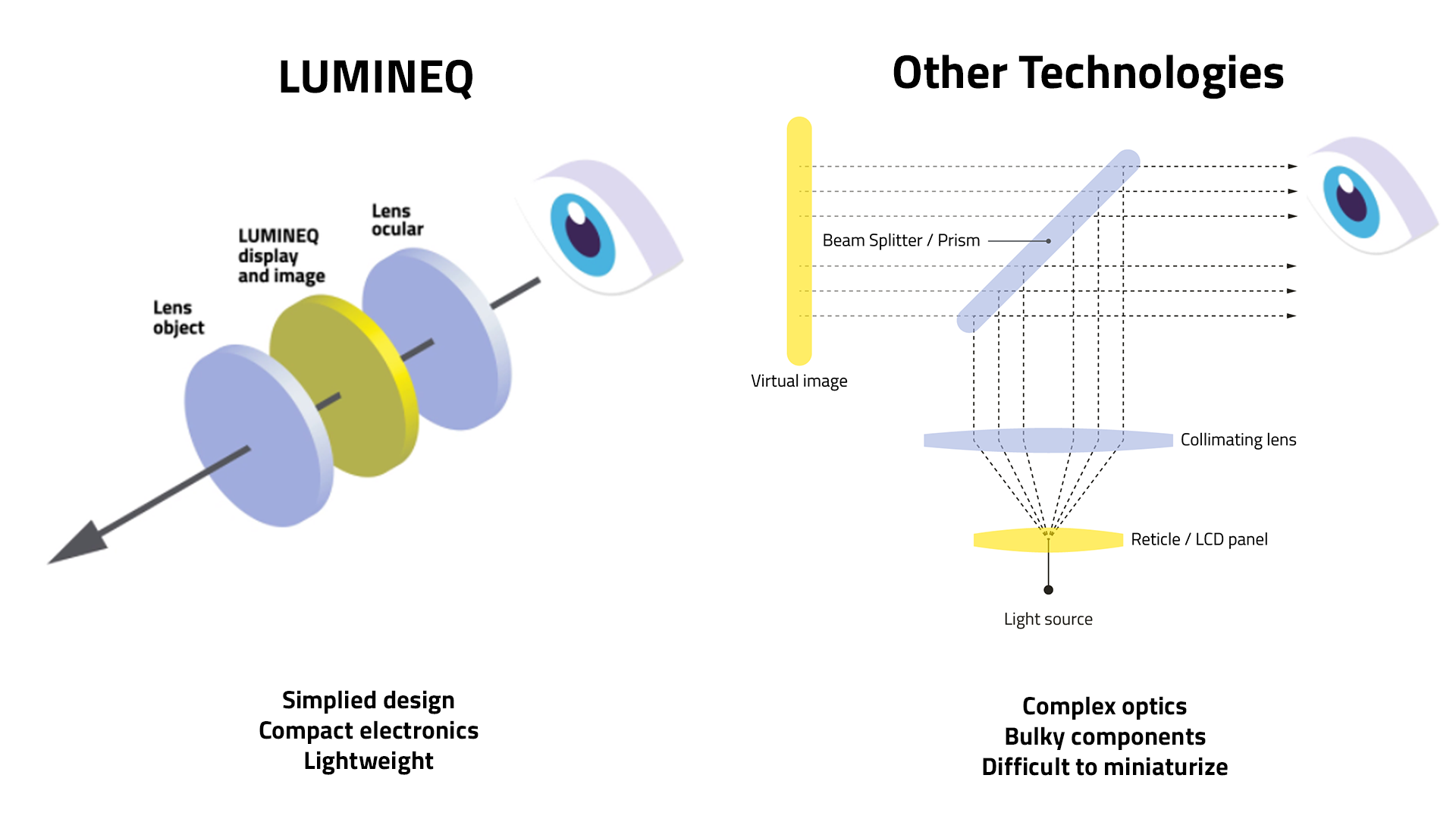 LUMINEQ transparent display Benefits
Simplified solution: emissive transparent display technology that can be placed directly to the line of sight, no projection system needed.
Superior optical quality: over 90% of transmission and excellent optical clarity
Also for devices with high magnification or scopes with first focal plane reticles: the graphic content can go down to 4µm details.
Durability is second to none: inorganic and solid-state structure makes it immune to environmental factors like humidity, temperature, shock, and vibration.
In all lighting conditions: wide adjustable brightness range from daytime to low light at night and even image intensification.
Low power consumption.
Fully customizable.
From prototyping to mass production
LUMINEQ offers standard demonstrators for evaluation and prototyping purposes. A mass production-ready reticle display is also available.

ELT119S-RETICLE
ELT119S-RETICLE is a mass production-ready digital reticle that enhances riflescopes with smart features. Scope manufacturers can seamlessly integrate it, introducing dynamic reticles and digital information to the line of sight for faster and more accurate aiming.

More information, visit https://www.lumineq.com/transparent-micro-displays.

Author: Jani Aho, Business Line Manager of Transparent Displays