The Society for Information Display hosts the 27th annual SID Vehicle Displays Symposium and Expo, bringing together leaders in display design, manufacturing, and testing for the automotive market. Vehicle Displays & Interfaces Virtual is the world's only technical symposium and exhibition in 2020 focused exclusively on advancing electronic vehicle displays and interfaces from concept to market, for next-gen consumer and commercial land, air, sea and space vehicle displays.
Due to the global pandemic, Vehicle Displays will be held for the first time ever as a fully virtual international conference taking place on October 14-15. The symposium will have a range of presentations covering topics in display trends and technology inside and outside of vehicles.
This enables anyone interested in vehicle displays to join virtually and hear from the industry leaders the latest display trends in the Mobility market. Presentations will be hosted online and available to view until February 15, 2021, for the one's that have registered to the event.
LUMINEQ will once again be an exhibitor at this years SID Vehicle Display expo and would like to invite you as our guest to the event. If you would like to learn about the latest industry trends and upcoming LUMINEQ transparent display innovations, register here: https://cvent.me/L8MEkO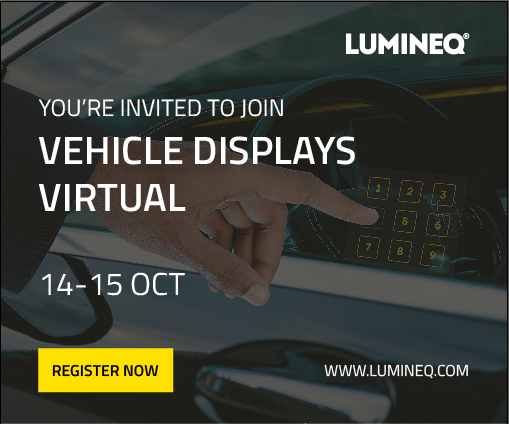 Throughout the two-day event, registrants will learn more about innovative LUMINEQ transparent display solutions. Our team of experts will be available via live video chat, e-mail or online meeting to discuss your automotive display needs.
Our virtual booth will provide you with materials (PDF, Presentation, Video, Articles) related to the following hot topics:
New water-resistant touch demo, enabling features like unlocking a shared car by typing the access code on car windows or opening bus and train passenger doors.
Renewed LUMINEQ

FOX demo with improved

clarity and optical features. Perfect for application like dimming vehicle windows or enhancing customer experience in transportation vehicles.
How transparent displays empower Smart Windows for the Automotive and Transportation industry.
About LUMINEQ:
LUMINEQ thin film electroluminescent (TFEL) displays are designed and manufactured by Beneq, an international technology company headquartered in Espoo, Finland. Beneq is a leading supplier of Atomic Layer Deposition (ALD) technology and LUMINEQ thin film electroluminescent displays.
LUMINEQ rugged displays have been renowned for their ultra-reliable performance in harsh environments since 1984. Read more about the display technology.
LUMINEQ transparent displays enable manufacturers to break design boundaries of conventional vehicles by turning any glass surface such as windshields or side windows into interactive see-through displays. Our automotive display portfolio includes various HUD solutions and in-glass laminated vehicle displays.