Visit LUMINEQ booth 51120
LUMINEQ Displays will be exhibiting at the Shot Show 2020 Supplier Showcase, taking place January 21-24 2020 in Las Vegas. We would like to invite you to visit our booth where we will be demonstrating our newest innovation in displays, the starter-kit for scope manufacturers. Scope manufacturers can evaluate and prototype LUMINEQ displays with great ease by using the Transparent Reticle Display starter-kit that integrates easily into existing optical lens systems for real world evaluation and testing of the technology.
If you would like to schedule a meeting with our team, click here.
Transparent

Reticle

Display

 

starter

-kit for scopes
LUMINEQ displays are inorganic, solid state transparent displays made for tough environments. They endure extreme temperatures, humidity, shock, and vibrations. Our display glass can withstand a temperature range of  -60°C to +85 °C . No other display technology can match the ruggedness.
The LUMINEQ display technology is placed at the first or second focal plane showing mission-critical information, such as heading, illuminated holdover dot, windage, precise targeting, ballistic information, or distance to the target. Besides the dynamic reticle, Transparent Displays provides digital information in the line of sight, right where it's the most useful. 
Unlike conventional reticles that use the principle of reflection or diffraction to create a lit aiming point the dynamic LUMINEQ display reticle provides the heading, illuminated holdover dot windage, precise targeting, ballistic information, or distance to the target directly on a flat glass that is placed on the line-of-sight. The LUMINEQ technology enables rich segmented display content and high-resolution micro matrixes with details up to 10 micrometers.
Our transparent thin-film electroluminescent displays are built using emissive technology, where only the segments that are lit up use power. This means low power consumption of a few milliwatts, depending on the lit area and the brightness.
Transparent Displays can also reduce device weight. Lighter weights are accomplished by replacing some of the mechanics with digital solutions resulting in a more simplified mechanical construction.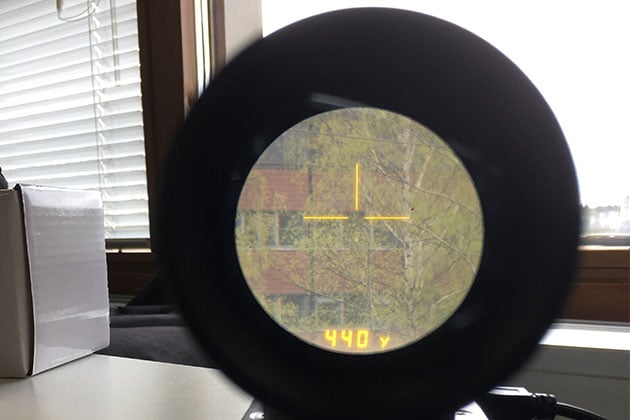 Key advantages of Transparent displays:
Clear as glass – see through properties excellent for optical applications
For extreme environments – tolerates moisture, pressure, shock, vibrations and extreme temperatures better than any other display type
Ruggedness, reliability and brightness endurance
Full transparency – invisible when turned off
Enables compact design and low power consumption – Suitable also for battery powered applications
Instant-ON and crystal clear regardless of temperature
Long production lifetime helps you avoid redesigns triggered by component obsolescence
Our Transparent Reticle Display starter-kit is fully customizable. The size, shape and content of the glass can all be adjusted to fit demanding end-product specifications. Matrix displays offer you the freedom of designing your own graphics, a combination of both a segmented display and matrix display is also available with LUMINEQ technology. With additional chrome layers one can customize their crosshair, light blockage and brightness according to the end-product requirements.
Learn more about LUMINEQ transparent displays for Optical applications: https://www.lumineq.com/applications/optics
Interested in getting your own concept demo? Come to discuss with us at our booth or send us a request.