We hosted a webinar to introduce our illuminated reticle solutions for rangefinders and first focal plane scopes on 12th of January, 2023. In this article, we will summarize the key takeaways of the webinar.
Benefits of LUMINEQ transparent display technology for optics applications.
New - enhanced lithography accuracy enabling first focal plane.
New - illuminated smart reticle for rangefinders.
Where to meet us - upcoming exhibitions.
If you would like to watch the whole webinar recording, please submit the form from the link below. We will review your request and get back to you shortly.
Benefits of LUMINEQ displays for optics and reticles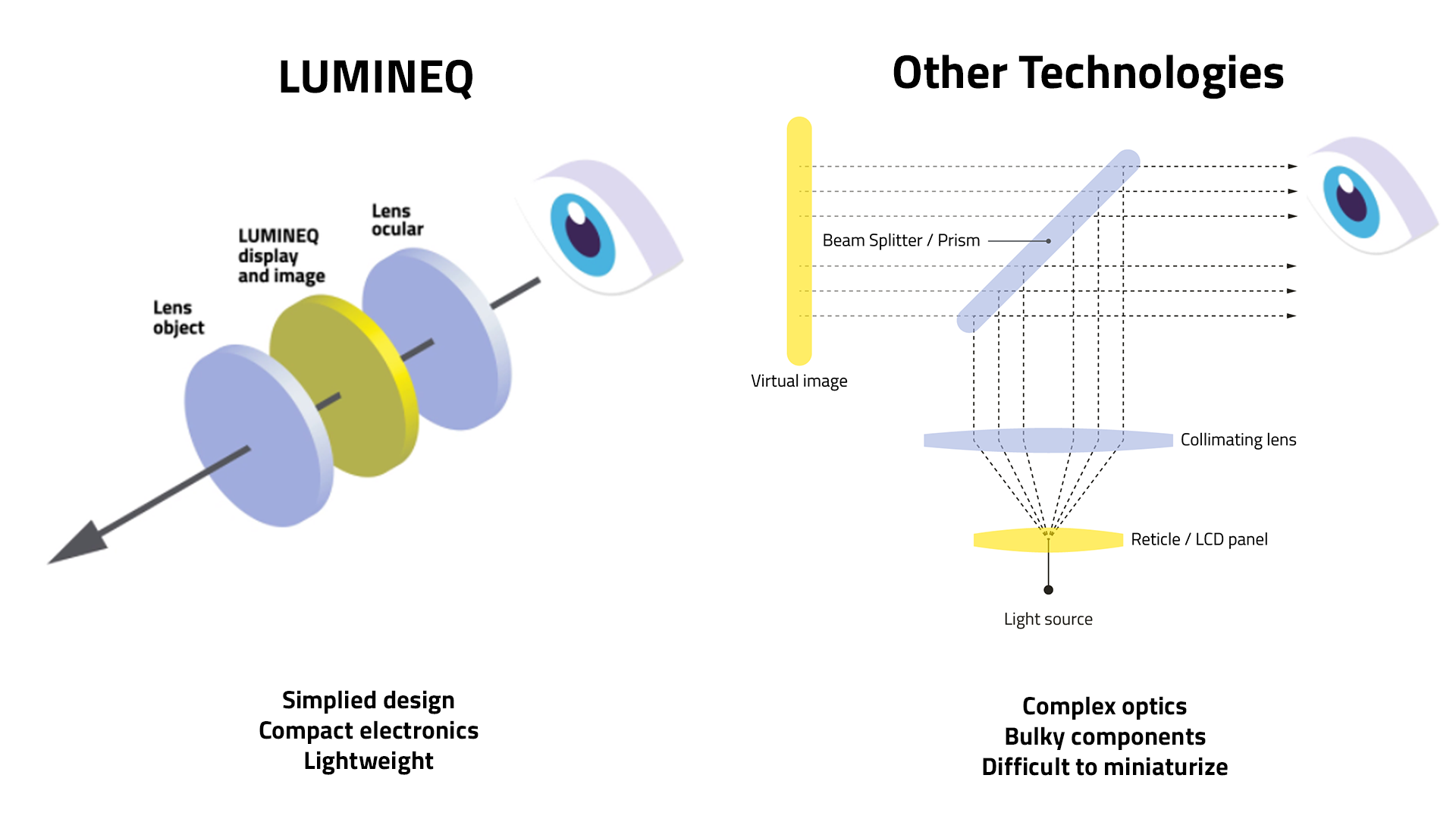 Simplified design
LUMINEQ display is placed on the optical path. Therefore, it allows you to bring dynamic information to optical devices with no need for extra space. We provide digitally enhanced dynamic reticle that can be placed directly on the line of sight for aiming devices. In addition to the lit segments, we can also pattern a chrome layer inside the display to provide a traditional reticle.
Up to 90% transmission
The display transmission is about 85% and up to even 90% when with AR. The display is nearly invisible when turned off. Seeing is believing. Contact us to request a demonstrator.
Micro graphics and display size
When it comes to scopes or range finders, the displays need to be small. We can make micro displays as small as required as long as there is room for the needed segments and tracing for contacting the segments, and the contact areas. Typical size of the display is around 20mm in diameter. The graphic content can go down to 4 micrometers in details.
The wide adjustable brightness range
LUMINEQ transparent display also has a wide adjustable brightness range from daylight to image intensification, from a few nits, or candela, to thousands according to different needs.
Ruggedness and reliability
Our transparent display offers the same ruggedness as our rugged displays due to its solid-state and inorganic design. If your scopes are used in harsh conditions such as extreme hot or cold weather, shock and vibration, significantly high altitude, or humid environments, our displays will not fail you.
Fully customizable
Our display can be fully customized to fit your needs, including the glass size, shape, and content, substrate and cover glass thickness, glass contacting design, electronics, interface, surface coatings, etc. Submit the form below to request a demonstrator.
Enhanced lithography accuracy enabling first focal plane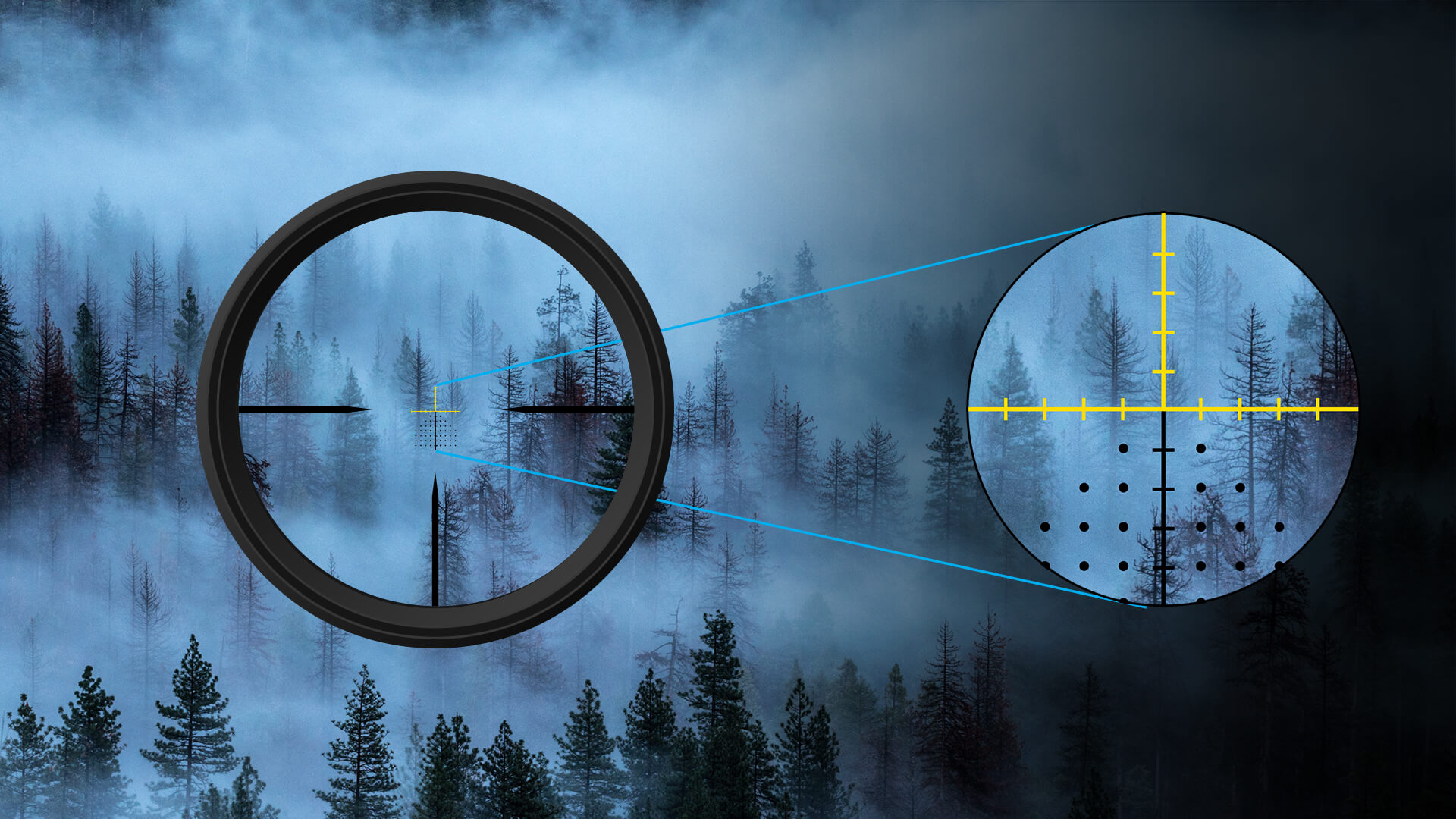 We invested €2 million in the new machinery in 2022, aiming to significantly improve productivity and enable fast prototyping and high-volume mass production. As a result of the new maskless laser exposure machine that we've been able to take fully in use, the enhanced lithography accuracy allows our displays to support rich segmented display content with fine details down to 4µm.
The design details now can be down to 4µm line width and feature size on both segments and chrome patterns, and 4µm gap between individually illuminated features. This applies not only to this lead structures or segments, but also to the chrome patterns.
With this new capability, we are able to extend our digital reticle offering and serve customers who want to build more complex and versatile First Focal Plane scopes with unique features.
New - illuminated smart reticle for rangefinders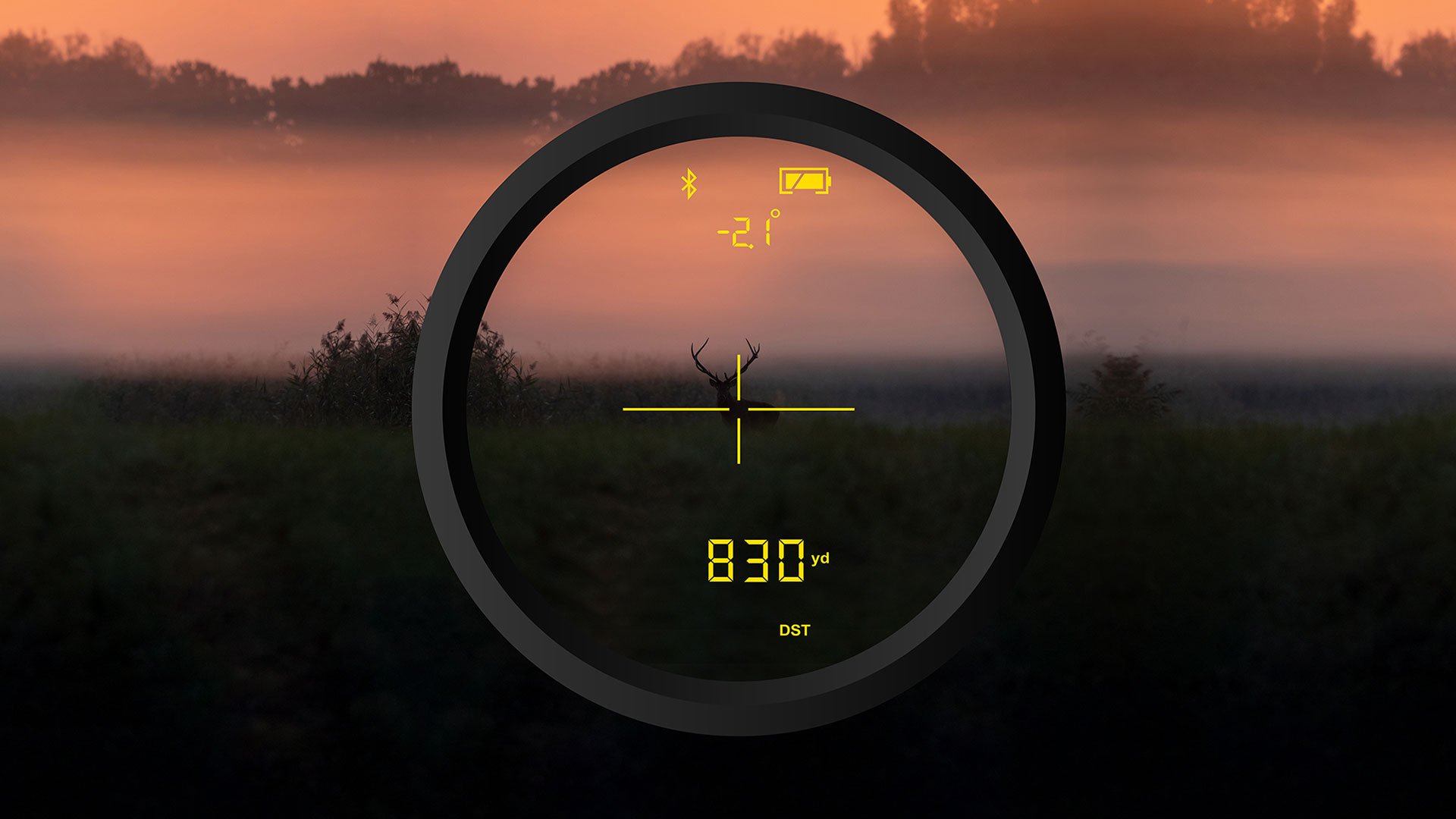 ELT76S-RANGE
Our new rangefinder reticle display ELT76S-RANGE is fully tested and mass production ready. It consists of the display glass, flex, and driving electronics. The segment design includes a couple of crosshairs, numbers to indicate the range in different units, and graphical elements to show what's being measured. The driver board utilizes the LUMINEQ standard electronics with I2C interface.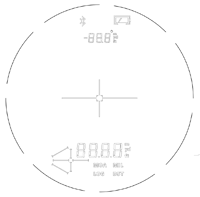 Rangefinder manufacturers can easily replace the LCD display with our illuminated reticle display and benefits from the following features:
Superior over 90% light transmission allowing clear and easy low light target acquisition.
Illuminated digital content
Wide adjustable brightness range: 3-5000 cd/m2
Enables designing optical systems in rangefinders and binoculars that work in every lighting situation.
Clear readouts with best possible transmission enabling hunting also in the dark.
Inorganic solid state structure enables long product life time and robustness to the most demanding environments - from sport optics to professional and military use cases.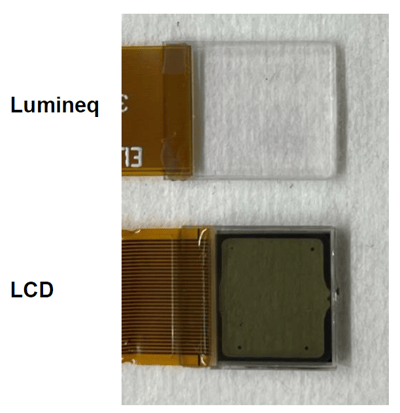 Where to meet us - upcoming exhibitions
We will be exhibiting at SHOT Show Supplier Show in Las Vegas on January 16-17, SPIE Photonics West in San Francisco on January 30-February 2, IWA in Nuremburg on March 2-5, and Embedded World in Nuremburg on March 14-16.
Sign up for future webinars
We will organize more webinars in the future. If you would like to get notifications of our upcoming webinars, please subscribe to our mailing list.