Visit LUMINEQ booth #1-148 in Hall 1
LUMINEQ Displays will be exhibiting at Embedded World 2020 and showcasing the magic of ruggedness and transparency - the future of displays. We are glad to invite you to visit our booth to check out our latest demos and products, and get professional advice from our technology experts.
If you would like to schedule a meeting with our team, click here.
Rugged Display ICEBrite demo for marine applications
The marine industry is replacing single purpose analog gauges and instrumentation with multi-function displays (MFDs). But MFDs can be cluttered making critical operating information difficult to read and high ambient light reduces visibility.


We will showcase our ICEBrite display solution that improves visibility of critical information and simplifies integration. The display with over-sized ICEBrite cover glass provides support for panel mount and enhancement coatings.

LUMINEQ's ICEBrite™, which stands for Integral Contrast Enhancement, offers unparalleled image quality in a wide range of challenging visual conditions. ICEBrite technology delivers up to 1000:1 contrast ratio for daylight readability.
Technology Demonstrator for Scope Manufacturers
We will showcase a Technology Demonstrator for scope manufacturers, to easily integrate our display to their scopes for evaluation and prototyping purposes. The display is placed in between the optics lens systems showing mission-critical information, such as heading, speed, altitude, location, and distance to the target.
Our Transparent Reticle Display Technology demonstrator is fully customizable. The size, shape and content of the glass can all be adjusted to fit demanding end-product specifications. Matrix displays offer you the freedom of designing your own graphics, a combination of both a segmented display and matrix display is also available with LUMINEQ technology. With additional chrome layers one can customize their crosshair, light blockage and brightness according to the end-product requirements.
Transparent displays can cut down device weight by transforming some of the mechanics to digital solutions thus simplifying the mechanical construction. This can drastically reduce weight for instance in high power rifle scopes by up to 1 kg.
Other benefits include:
Low power consumption

Glass-like transparency of 85%

Adjustable brightness

Humidity resistant

Shock resistant

Vibration resistant

Extreme operating temperatures (from -100°C to +105°C)
Learn more about our transparent displays for Optics: https://www.lumineq.com/applications/optics
In-Glass Displays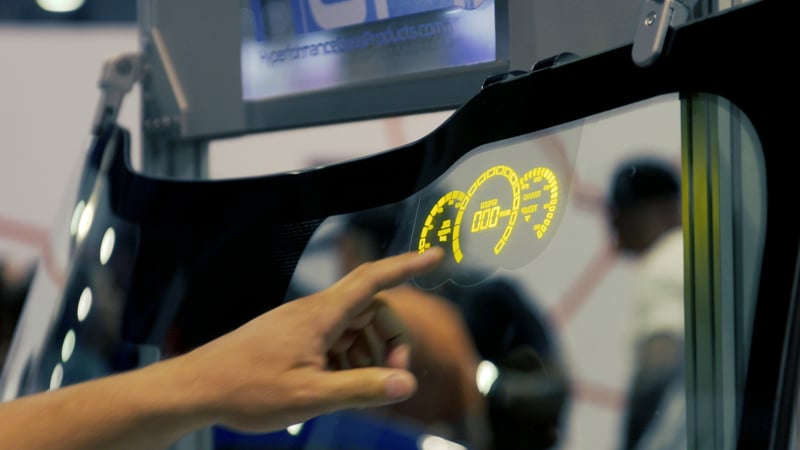 LUMINEQ in-glass displays come with touch functionality, which is directly integrated in the function display layer. By laminating transparent displays in glass, vehicle OEMs are empowered to utilize all the windshields and windows, showing important information and providing functions controlled by touching the glass. Our experts will be showcasing our windshield demo product at the exhibition.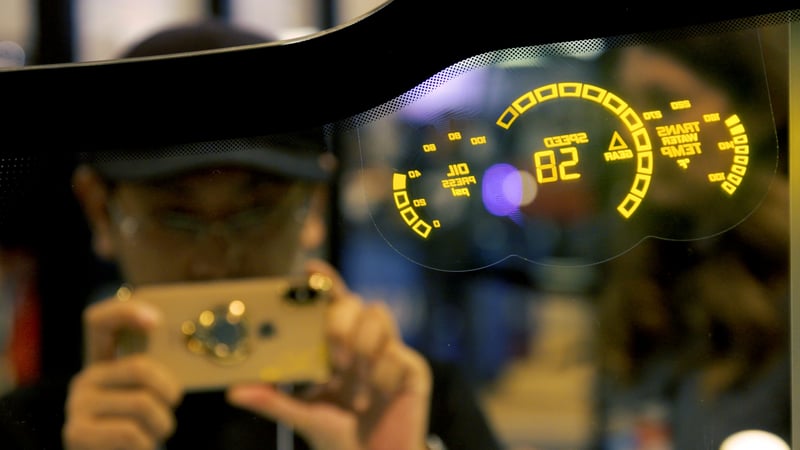 LUMINEQ in-glass display technology allows vehicles to have smart windows, which can display information such as:
In-glass HUD
Messages to pedestrians on windshields
EV charging status on the car window
Price list availability on the side window of a taxi or Uber
Back seat left-over warning on side windows
The in-glass touch displays provide functions that otherwise need a physical control panel:
Unlocking a shared car by typing the access code on car windows
Controlling the dimming of the window
Requesting service from the crew
Improved the user experience
Watch the following video to see more smart vehicle window applications.
LUMINEQ laminated in-glass displays for vehicles allow you to customize your side windows. Learn more about our applications for the automotive industry.
Interested in getting your own concept demo? Come to discuss with us at our booth or send us a request.